Press Release: New Executive Director for North Country Trail Association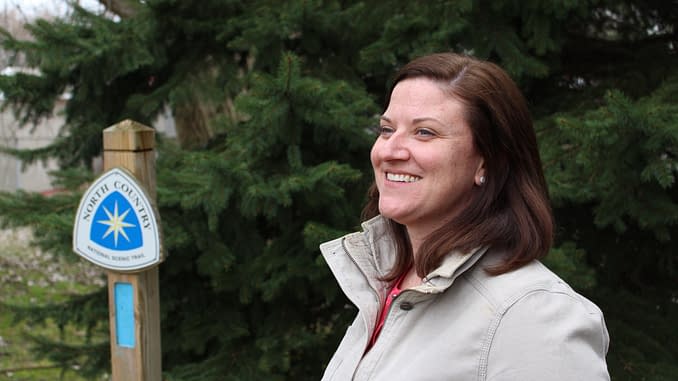 The following press release was submitted to us by the North Country Trail Association.  Photos were also submitted and used with permission by NCT.
Date: 13 April 2017 12:00 noon EDT
Andrea Ketchmark's appointment as the new executive director for the North Country Trail Association (NCTA) was announced this morning by Ruth Dorrough, president of the NCTA's board of directors.  "We couldn't be more pleased and excited that Andrea Ketchmark has agreed to move into this leadership role for our Association," said Dorrough. Ketchmark will assume these duties upon the July 31st retirement of Bruce Matthews, NCTA's executive director since 2007.
"The NCTA board underwent a rigorous four-month search and recruitment effort to arrive at this point," said President Dorrough. "We were all pleased that Andrea surfaced at the top of a highly qualified list and was unanimously confirmed and endorsed by our board. "
Andrea (pronounced ann-DRAY-uh) Ketchmark has served as NCTA's Director of Trail Development since 2009. Prior to this she worked at the American Hiking Society as Volunteer Programs Manager, bringing the AHS's Volunteer Vacations program into national prominence.  Her extensive experience in trails development, management, protection and advocacy served her well as NCTA's Director of Trail Development as she led and managed a team of regional trail coordinators as well as NCTA's mapping and GIS coordinator for the past 7 years. Among the numerous accomplishments under her leadership include the establishment of NCTA's' trend-setting Trail Town program, building of a trail protection program and the addition of an online Volunteer Resources Center, providing guidance to chapters, members and volunteers on all aspects of trail management and protection. Andrea has engaged in building countless partnering relationships at state, national and local levels, and representing NCTA in the larger trails and recreation community.