Press Release: New Executive Director for North Country Trail Association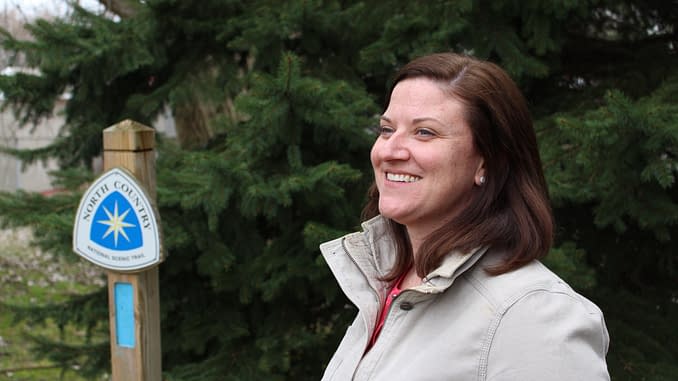 The following press release was submitted to us by the North Country Trail Association.  Photos were also submitted and used with permission by NCT.
Date: 13 April 2017 12:00 noon EDT
Andrea Ketchmark's appointment as the new executive director for the North Country Trail Association (NCTA) was announced this morning by Ruth Dorrough, president of the NCTA's board of directors.  "We couldn't be more pleased and excited that Andrea Ketchmark has agreed to move into this leadership role for our Association," said Dorrough. Ketchmark will assume these duties upon the July 31st retirement of Bruce Matthews, NCTA's executive director since 2007.
"The NCTA board underwent a rigorous four-month search and recruitment effort to arrive at this point," said President Dorrough. "We were all pleased that Andrea surfaced at the top of a highly qualified list and was unanimously confirmed and endorsed by our board. "
Andrea (pronounced ann-DRAY-uh) Ketchmark has served as NCTA's Director of Trail Development since 2009. Prior to this she worked at the American Hiking Society as Volunteer Programs Manager, bringing the AHS's Volunteer Vacations program into national prominence.  Her extensive experience in trails development, management, protection and advocacy served her well as NCTA's Director of Trail Development as she led and managed a team of regional trail coordinators as well as NCTA's mapping and GIS coordinator for the past 7 years. Among the numerous accomplishments under her leadership include the establishment of NCTA's' trend-setting Trail Town program, building of a trail protection program and the addition of an online Volunteer Resources Center, providing guidance to chapters, members and volunteers on all aspects of trail management and protection. Andrea has engaged in building countless partnering relationships at state, national and local levels, and representing NCTA in the larger trails and recreation community.
Mark Weaver is National Park Service Superintendent of the North Country National Scenic Trail, the major partner with the NCTA in the planning, building, maintaining, protecting and telling the story of the NCNST. "We've worked closely with Andrea in many partnership efforts together," says Weaver. "I truly couldn't be happier to know she will now assume a new role as Executive Director. Congratulations to Andrea!"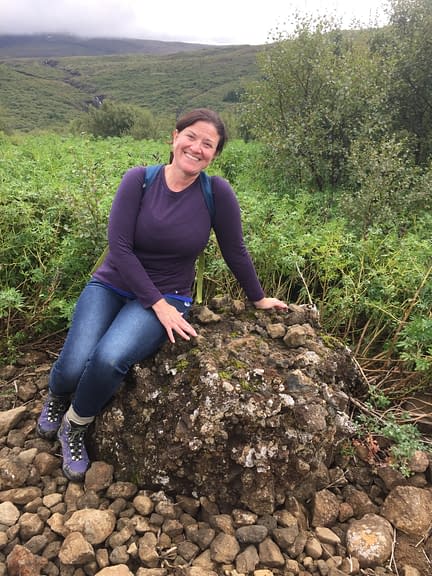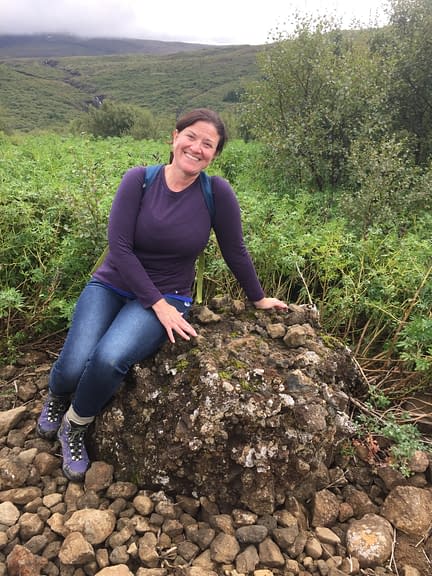 "Trails can change the world!" exults Ketchmark. "Nowhere is that more evident than in the North Country Trail community where I have witnessed the most inspiring stories of transformation, and have worked alongside those that have dedicated their lives to something bigger than all of us." She continues, "I'm honored to be chosen to lead NCTA into a new and exciting era."
In addition to her extensive work experience Ketchmark has a Colorado State University degree in Natural Resources Recreation and Tourism. "Andrea's rigorous approach to policy analysis and commitment to research-based best practices is a reflection of her academic training," says Bruce Matthews, NCTA's current executive director. "She's a quick study, a great manager and her work has elevated NCTA to national prominence. She's got a personal passion for public lands stewardship and trails advocacy. We're very proud of her—NCTA is going to be in great hands!"
Ketchmark was recently honored in her selection as a member of the next class in the prestigious Great Lakes Leadership Academy, a rigorous and highly competitive program for natural resources and public policy professionals.
The North Country Trail Association will be filling Ketchmark's former Director of Trail Development position as she transitions to executive director upon Matthews' announced retirement on July 31st.
Her early love of the outdoors and hiking was fostered by a lifetime of summers spent on a lake in Michigan and her college years exploring the Rocky Mountains of Colorado and the Southwest canyon country, and she still works hard to make time to get outside with her family whenever she can.
The North Country National Scenic Trail is the longest in the National Trails System, stretching 4,600 miles over 7 states from the middle of North Dakota to the Vermont border of New York. The Trail traverses through a National Grassland, 10 National Forests, more than 150 federal, state and local public lands; near three of the Great Lakes; past countless farmlands; through large cityscapes; over many rivers; and through the famed Adirondacks.
The North Country Trail Association is a national non-profit 501(c)(3) organization dedicated to the building and maintaining of the North Country National Scenic Trail and telling its story. With members, chapters, partners and affiliates located along the 4,600 mile length of the Trail through America's northern heartlands, the NCTA is the primary advocate for the North Country Trail and the Red Plaid Nation that uses and is celebrated by it.
Source URL: Read More
The public content above was dynamically discovered – by graded relevancy to this site's keyword domain name. Such discovery was by systematic attempts to filter for "Creative Commons" re-use licensing and/or by Press Release distributions. "Source URL" states the content's owner and/or publisher. When possible, this site references the content above to generate its value-add, the dynamic sentimental analysis below, which allows us to research global sentiments across a multitude of topics related to this site's specific keyword domain name. Additionally, when possible, this site references the content above to provide on-demand (multilingual) translations and/or to power its "Read Article to Me" feature, which reads the content aloud to visitors. Where applicable, this site also auto-generates a "References" section, which appends the content above by listing all mentioned links. Views expressed in the content above are solely those of the author(s). We do not endorse, offer to sell, promote, recommend, or, otherwise, make any statement about the content above. We reference the content above for your "reading" entertainment purposes only. Review "DMCA & Terms", at the bottom of this site, for terms of your access and use as well as for applicable DMCA take-down request.
Acquire this Domain
You can acquire this site's domain name! We have nurtured its online marketing value by systematically curating this site by the domain's relevant keywords. Explore our content network – you can advertise on each or rent vs. buy the domain. Buy@TLDtraders.com | Skype: TLDtraders | +1 (475) BUY-NAME (289 – 6263). Thousands search by this site's exact keyword domain name! Most are sent here because search engines often love the keyword. This domain can be your 24/7 lead generator! If you own it, you could capture a large amount of online traffic for your niche. Stop wasting money on ads. Instead, buy this domain to gain a long-term marketing asset. If you can't afford to buy then you can rent the domain.
About Us
We are Internet Investors, Developers, and Franchisers – operating a content network of several thousand sites while federating 100+ eCommerce and SaaS startups. With our proprietary "inverted incubation" model, we leverage a portfolio of $100M in valued domains to impact online trends, traffic, and transactions. We use robotic process automation, machine learning, and other proprietary approaches to power our content network. Contact us to learn how we can help you with your online marketing and/or site maintenance.